Discography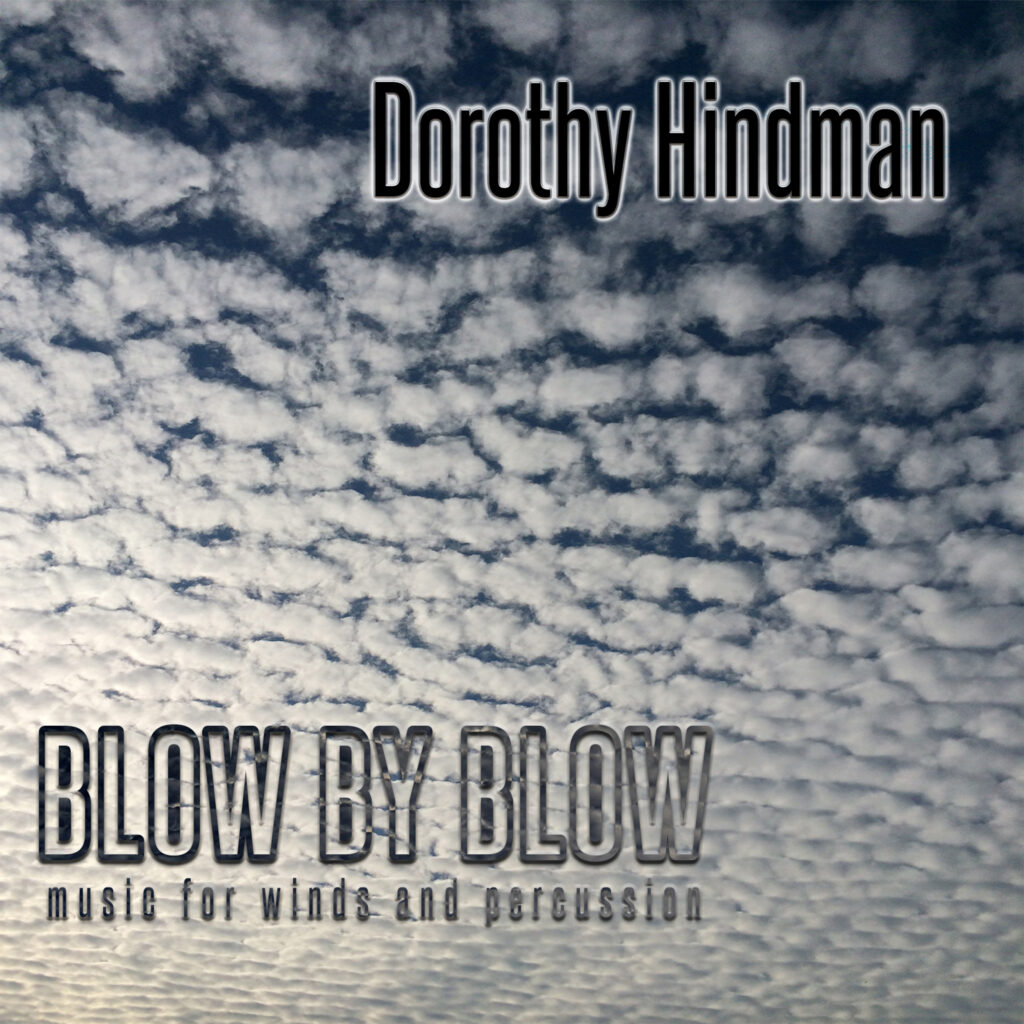 SILVER MEDALIST, Global Music Awards, 2021
"…over the past nine years, there has never been such a relentless barrage of persistently troubled and often tortured sounds as the year of the lockdown has given us. Today is a welcome break from that. Dorothy Hindman is all about fun, whether in your face or in the distance. She writes meticulously intertwining, generally optimistic, energetic music: she's a one-woman cloudbreak. She tends to favor wind instruments, percussion, and dancing upper-register melodies, although what she writes in the lows is just as catchy. Her music has a carnivalesque side, but it's playful rather than macabre. It's hard to pin down her influences: there's nobody who sounds remotely like her. "
~New York Daily Review, Dec. 8, 2020
Dorothy Hindman's latest solo release on the innova label Blow by Blow is a double-disc one-two punch delivering banging new 21stcentury music for winds and percussion by one of today's most original composers. Traversing three decades of music, Blow by Blow pulses and soars, hammers and roars, popping and crackling with harnessed energy. Insistent rhythms whip riffs into intricate, towering formations in Mechanisms for flute ensemble, Cascade for saxophone ensemble, and Fission for concert band. Shimmering colors waft equally through the wind-up clockwork of Hindman's quartets Drift and Multiverses, and the nebulous soundscapes and solos of Trembling for flute, Soliloquy for Clarinet, Beyond the Cloud of Unknowing for marimba, and Untitled I, Hindman's latest chamber work. An air of bouncy humor suffuses the short, sweet Big Fun for baritone saxophone, CONTENTS UNDER PRESSURE for reed quintet, and Lost in Translation for soprano saxophone, while Stuart Gerber's breathtaking, thundering Tapping the Furnace will blow you away.
Blow by Blow is powered by top-flight musicians including Splinter Reeds, the [Switch~ Ensemble], Frost Symphonic Winds, Frost Flute Ensemble and the Frost Saxophone Ensemble, Atlas Saxophone Quartet, the Georgia State University Percussion Ensemble, and the individual talents of flutists Trudy Kane and Donald Ashworth, Jr., saxophonists Frank Capoferri and Carey Valente Kisselburg, clarinetist Lori Ardovino, percussionists Stuart Gerber and Scott Deal, pianists Lauralee Pow and John Elmquist, and conductors Andrés Felipe Jaime and Jeffrey Summers.
---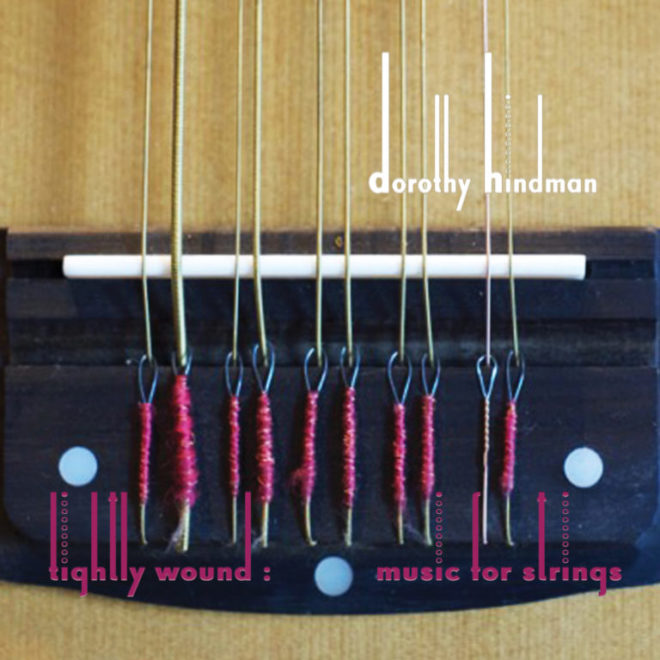 GOLD MEDAL WINNER 2017 Global Music Awards
"This two-CD set presents a fascinating cross-section of [Hindman's] music written for stringed instruments (violin, acoustic bass, guitar, etc.) and piano. Her music is mostly tonal (as opposed to atonal, which drives some people to the exits) and she employs dissonance judiciously. Hindman employs the structures and dynamics of old-school composers—Brahms, Copeland, Barber—and employs them in the language(s) of this century. … Without any overt fusion moves, Hindman's music weds technique and syntax of classical music with the directness and impudence of rock. Highly recommended for rockers wishing to get their proverbial feet wet in post-20th century classical music and classical fans who think much post Leonard Bernstein music sounds like stuff falling down a stairwell."
~ICON Magazine, 2018
Fueled by a unique blend of punk, postmodern, and spectral techniques, Dorothy Hindman's music sings and screams, breathes and howls, leaving a lasting impression like none other. Her second solo release, Tightly Wound, a double album showcasing her music for strings, stakes a solid claim for her position as one of the more fearless voices in chamber music today. Hindman's works have a raw power — such as Heroic Measures, Taut and Needlepoint, three perspectives on the ravages of cancer, or Setting Century, an elegy on how losing a parent clarifies our own mortality. Other pieces are lighter in substance but no less personal: Time Management on the impossibility of balancing marriage, children and career, Monumenti and centro on the challenges of life, language, and customs in a different country, and Sound|Water on climate change and sea level rise in her native Miami.
Over a two-decade span of works, Hindman's driving rhythms, meticulous development, and sparkling timbral imagination show her commitment to connecting music and life to a thrilling degree. Enter with caution.
Tightly Wound features a string of stellar performers, including cellist Craig Hultgren, guitarist Paul Bowman, double bassist Robert Black, PULSE, Corona Guitar Kvartet, Amernet String Quartet, Duo 46, and many more.
---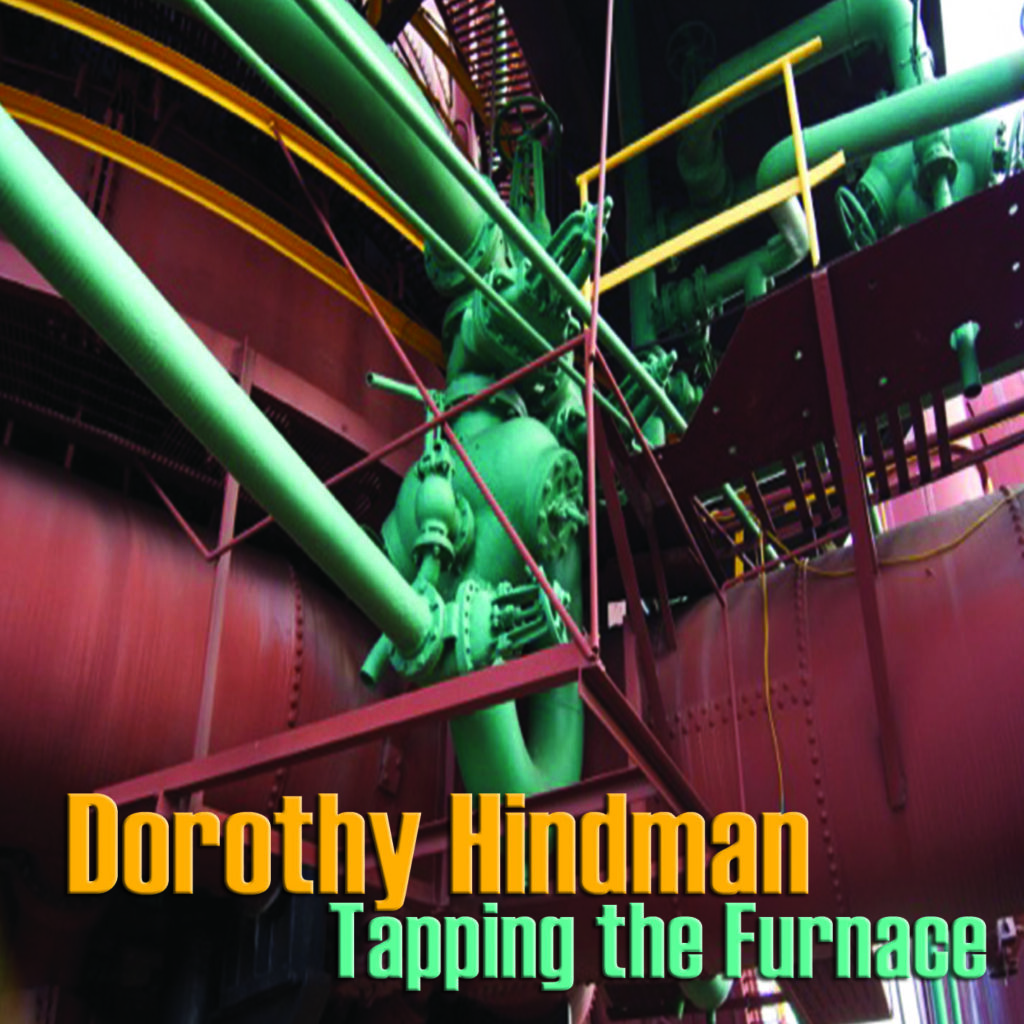 "Hindman's extraordinary expressiveness provides glimpses into interesting topics, concepts of modernity and structured complexity. I think for many listeners the composer's first CD Tapping The Furnace represents a remarkable discovery."
~ Slabý Z. K., Kulturni Magazin UNI, August, 2013
Over the last two decades, Miami-based composer Dorothy Hindman has created music that delves into process, perception, profundity, and entropy. On her debut solo release Tapping the Furnace, her fascinating and ear-grabbing works are interpreted by some of today's top new music performers, including cellist Craig Hultgren, pianist Laura Gordy, guitarist Paul Bowman, and percussionist Stuart Gerber. The result is a wide-ranging collection that touches on the visceral contained within Hindman's highly structured compositions.
At the core of Hindman's music is a belief in the power of simple materials worked in engaging and captivating fashion. While rock and punk energy is evident, her music also exhibits delicate timbres that might link her to European Post-Spectralist styles (though hers were developed independently of those trends).
Written for amplified cello, "drowningXnumbers" engages every part of the instrument, while "fin de cycle" combines the natural tones of the piano with digital manipulation that reveals rather than obscures. By the time we reach the album's final piece—"Magic City," performed by the Kiev Philharmonic—the focus on solo works makes it feel at first almost overwhelmingly lush, but the same essential focus draws it all together.
---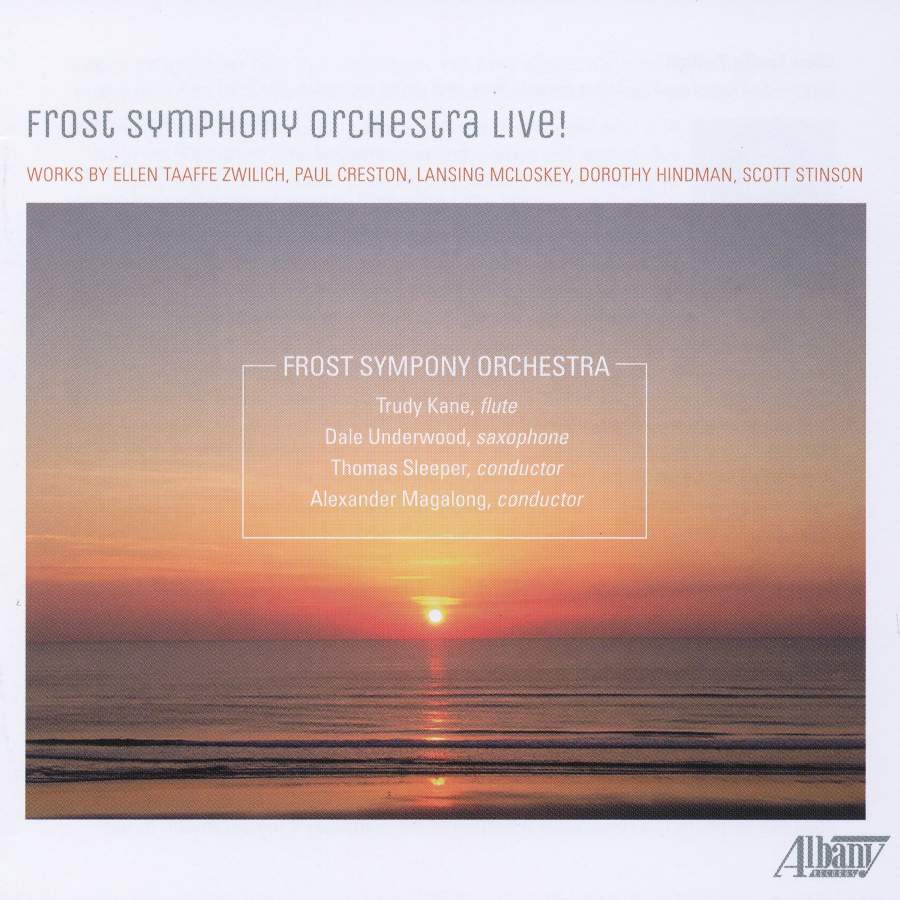 "The Frost Symphony … has a warm, mellow sound and do a terrific job with the contemporary Americana in this program. … Dorothy Hindman's imaginative and sinister Setting Century, explores the relativity and inexorability of time"
~SULLIVAN, American Record Guide, May/June 2019"
"The genesis of Setting Century by Frost faculty member Dorothy Hindman was a 1999 chamber work. This revised orchestral version received its premiere in an incisive performance conducted by Alexander Magalong who is studying for his master's degree under Sleeper. Hindman's three-movement suite is ingeniously crafted. The score is an imaginative essay in orchestral rhythm and color. The initial section "Ticking" is based on a brief, repeated figure in the violins, like the machinery of a clock. Gradually larger melodic threads emerge. The piano imitates bells over long string lines in "Tolling." As the winds and strings branch out to broader, more complex patterns, the overall effect is powerful. Dance-like themes give the entire orchestra a good workout in "Streaming,". An extended episode for winds exploits the individual instruments' timbres in striking fashion. Hindman could not have wished for a better performance, with Magalong keeping the ensemble playing tight and crisp. Special kudos to Rosangel Perez for a brilliant traversal of the extended piano part."
~Lawrence Budmen, South Florida Classical Review
Taken from recordings of live concerts, the Frost Symphony Orchestra offers works by five American composers including Ellen Taaffe Zwilich, Paul Creston, Lansing McLoskey, Dorothy Hindman, and Scott Stinson. For the Zwilich, the orchestra is joined by flutist Trudy Kane, now on the faculty of the Frost School of Music, after retiring from the position of principal flutist of the Metropolitan Opera Orchestra. World-renowned saxophonist Dale Underwood is the soloist for the Paul Creston concerto.
---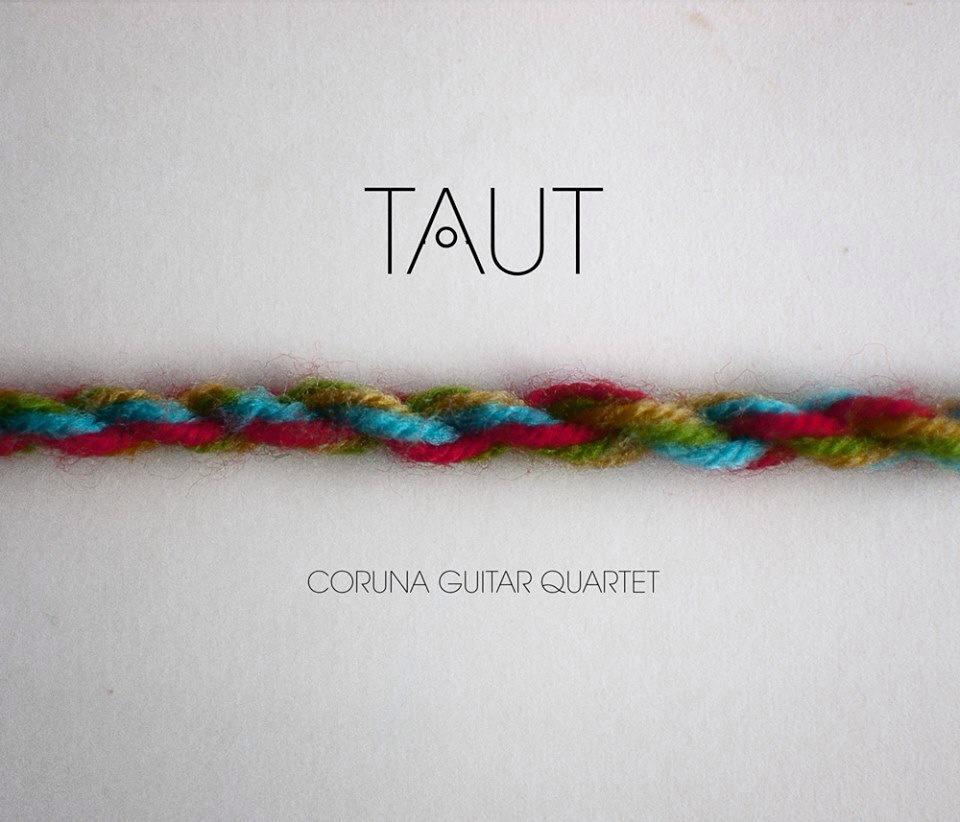 ..."a dramatic, highly strung piece."
~Maria Nockin, Fanfare Magazine, July 16, 2015
During the past several years, the Corona Guitar Kvartet (Per Dybro Sorensen, Volkmar Zimmermann, Kristian Gantriis and Mikkel Andersen) has specialized in forging personal relationships with composers of varying styles, and of performing their works.
The selections on this, their sixth CD, reflect the diversity of contemporary music styles performed by the Kvartet and most of it was written especially for them by composers taken with the the Kvartet's openness to differing musical visions, its willingness to play composers whose music its members admire, and its dedication to understanding each work on its own terms.
The composers include Charles Norman Mason and Dorothy Hindman, faculty members at the University of Miami's Frost School of Music; Edward Green, a faculty member at the Manhattan School of Music; Franco Sbacco, a faculty member at the State Conservatory of Music Santa Cecilia of Rome; and Fred Frith, a faculty member at Mills College.
---
"…a very likeable 10-minute overture … Inspired by her adopted home, she paints a musical canvas that vividly suggests expansiveness and city bustle. Repeated notes and overlapping phrases set the backdrop for the work's well-crafted orchestration."
~Michael Huebner, "ASO's 'Magic City' well crafted," The Birmingham News, Friday, February 1, 2002
The Seventh volume in the MASTERWORKS OF THE NEW ERA series features the award-winning music of Knight, Brydern, Shin, Hindman, March, Haimo, Pavia, Polay, Gallagher, and Porter.
Magic City (in moto perpetuo) utilizes four simple chords and a steady eighth note pulse. Each chord is presented first as a harmonic area within which distinguishing melodic fragments and timbral gestures occur. Gradually, the durations of each chord and its associated melodies and timbres become shorter, until the chords appear as a progression, and a composite melody is heard. Overall, the work can be heard as a metaphor for the bustling activity in any city from one day to the next. However, it is specifically a tribute to the city of Birmingham and the state of Alabama, as it enters an exciting new era of support and dedication to the arts. Magic City was made possible in part by a 1998-99 Artist Fellowship from the Alabama State Council on the Arts.
---
"…Needlepoint for solo guitar is a tribute to Hindman's mother who, weakened by cancer, experiences moments of clarity and productivity between savage chemotherapy rounds. Guitarist Paul Bowman travels effectively from percussive to mellow finger work, matching the musical ranges of this piece. The opening "needlepoint" patterns, possibly the most beautiful moments on the CD, could go on forever with their quiet energy and subtle complexity. However, percussive guitar slaps and string-pulls interrupt these patterns, representing periodic dissonances experiences by the mother. The piece travels graphically between this "needlework" and increasingly varied percussive interruptions as Hindman seems to capture the non-linear, disrupted nature of her mother's everyday existence. The piece touchingly ends on a low trill, followed by a quietly percussive, low harmonic chord. Is this her end, or will she go on with needlepoint, yet again to be interrupted?"
~Carol Ann Weaver, "Compact Disc Reviews: Tapping the Furnace: Music by Dorothy Hindman, lnnova848 (2013)," IAWM Journal Volume 21, No. 1 2015, 44-45
Needlepoint: In the summer of 2004 while I was writing this piece, my mother battled cancer for the third time. When she was feeling well enough in between rounds of chemotherapy, she worked on a needlepoint sampler for my son; this is the way she chose to spend her good time. The contrasting imagery and connotations of the word needlepoint: domestic and comforting, and sharply violent and invasive, are reflected in the formal structure of the work. The transformations to the musical material in Needlepoint are not unlike the transformations in one's life caused by the protracted illness and death of a loved one: relatively stable periods of normalcy and/or numbness followed by briefer periods of extreme shock and dissonance. Over the course of the work, the stable material is itself transformed by the repeated interruptions of the dissonant material. This work was written for my friend, guitarist Paul Bowman, at his request.
---


LIVING ARTIST RECORDINGS-Vol. 6
ASIN: B000056K7X
Distributed digitally wherever music is available
"Hindman's I Have Heard…, a sonorous and affirmative setting of passages from Whitman's Leaves of Grass."
~Nancy Raabe, "Smith Singers open window to American choral tradition," The Birmingham News, February 25, 1997
The text for I Have Heard… is an excerpt from Walt Whitman's Song of Myself from his Leaves of Grass, first published under this title in 1881-1882. I chose this text because of its emphasis on an "I"; which is often meant to be universal. The theme of celebration of the self greatly appealed to me at the time I wrote the piece, and the form and rhythm of Whitman's poetry has powerful musical implications. The direct repetition of the poetry, and the contrasting imagery of universal and personal themes merge well with my ideas of textural independence and focus in creating musical forms.
~Dorothy Hindman
---


LIVING ARTIST RECORDINGS – Vol. 1
ASIN: B000056K88
Distributed digitally wherever music is available
"Dorothy Hindman's "drowningXnumbers" (1994) for electronic cello is grittier and more frantic with its string scratches and rhythmic strumming and plucking, but its progression from fast and furious to ethereal and reflective make for satisfying listening."
~Michael Huebner, "Cello, saxophone pieces keep show in sound shape," The Birmingham News, Tuesday, June 5, 2007

"From the fire and aggression of the first section, through a percussive middle, to the quietly desolate conclusion – Hindman and Hultgren take the listener on a fascinating and colorful journey. "drowningXnumbers" is a piece which deserves to be played and heard more often."
~Jeremy Beck, "CD of the Living Music," 20th Century Music, October 1997
Written for amplified cello, "drowningXnumbers" engages every part of the instrument. "drowningXnumbers" (drowning by numbers) was written during a residency at Atlantic Center for the Arts in December, 1994, for cellist Craig Hultgren, who asked for a piece for amplified cello. The piece exploits the effects made possible by amplification, and also incorporates virtuosic effects which were inspired by Craig himself. It is a continuous, fifteen-minute work divided into three main sections, each with a faster tempo but longer note durations than the preceding. The first section is unforgivingly aggressive, the second is more percussive but less frantic, and the third is increasingly quiet, desolate, and still. The work is the composer's response to the large amount of aggressive music being composed by her colleagues. It reflects some of her own beliefs about beauty, emotion, intention, and profundity in music. While the title suggests an obvious metaphor for the work, it is a reference to a film by Peter Greenaway, and even more a reference and grateful acknowledgment to composer Louis Andriessen.
---


LIVING ARTIST RECORDINGS – Vol. 3
ASIN: B000056C67
Distributed digitally wherever music is available
"Fin de cycle, expressing the atmosphere of the century, is entrusted to another outstanding soloist, pianist Laura Gordy, whose technique [is] blessed by explosiveness. … Gordy, who commissioned the music, can be reckless, chattering and murmuring … a model, which in effect contributes [a] connection with parallel recordings on tape."
~Slabý Z. K., Kulturni Magazin UNI, August, 2013

"Dorothy Hindman's piano and tape dialogue, fin de cycle … creates an engaging, conversational give-and-take in a variety of moods and textures. String plucking and other inside-the-piano devices added to her expansive sonic arsenal."
~Michael Huebner, "Pianist Rob Conway,"The Birmingham News, Sunday, December 8, 2002
fin de cycle (1997) refers to the French term, fin de siècle, meaning end of the century, and also suggests the compositional idea of the end of a process. The piece employs a wide range of traditional and contemporary piano techniques, and also explores the relationship of piano to tape. This relationship, sometimes antagonistic and sometimes complimentary, has parallels to the continuously changing and developing relationship between live concert music and studio-produced music in our time. fin de cycle was written for pianist Laura Gordy.
---


ASIN: B001CSRKUM
Distributed digitally wherever music is available
Bathtime is the second musique concrete work in a documentary series based on source material recorded during typical family rituals, in this case bathtime for two young boys. 81 separate sonic events, each two seconds long, were chosen from the source recording. These were combined and processed using Adobe Audition to create a stereo file that moves from aggressive chaos to a zen-like contemplation of meaning, reflecting the soothing, cathartic qualities of the bath. Bathtime was composed and realized at the Birmingham-Southern College Electronic Studios in June, 2007.
---


ASIN: B000TXNERY
Distributed digitally wherever music is available
Seconds is a musique concrete work based on source material recorded during a single dinner with the family. 96 separate sonic events, each one second long, were combined and processed using Protools to create a 5.0 surround file. This is the stereo version of that file. Seconds was composed and realized at the Visby International Centre for Composers' Studio Alpha in June, 2005.
60×60 is a project containing 60 works each 60 seconds in length presented continuously in an hour performance synchronized with an analog clock. 60×60 presents a slice of what is happening in the contemporary music scene by representing 60 works that are diverse in aesthetic and style. 60×60 places a call for works every year and picks (at least) 60 composer's audio works to drive the performance season that year. The 60×60 mix is then used as a base for other 60×60 projects and collaborations.
---


Living Artist Recordings, Vol. 5
Rovi Music ID: MW0001030969
Distributed digitally wherever music is available
"Several items on Tuesday's program met with acclaim. Foremost was Dorothy Hindman's superbly crafted Songs of Reminiscence, … Lively, engaging and bursting with bravura, the cycle will find itself much in demand once word spreads."
~Nancy Raabe. "Warmth, enthusiasm flow at BAMA concert," The Birmingham News, January 27, 1999
David Smith, on Three Songs of Reminiscence:
The texts resulted from my sabbatical leave project, spring, 1997, which included the study and writing of poetry. They are from a series based on remembrances of my family in California and on personal reminiscence. The first, American Plantagenet, is a characterization of my stern circuit-riding preacher-grandfather who established a number of churches in the mother lode gold rush area of northern California in the early part of this century. The second, Moss Beach, 1946, is the true story of a double suicide by drowning witnessed by my grandfather as told to my father. The third, Aria, is a whimsical piece freely based on my experience singing in the Birmingham's Three Tenors concert this past February.
Dr. Hindman's settings of these texts are rich and compelling. They undergird and enhance the emotional content of the words. Her musical language is rooted in the 20th century, but in these songs she makes use of extended tonality, paying homage to the traditional styles of art song, opera and operetta. These settings are easily accessible to the average music lover.
---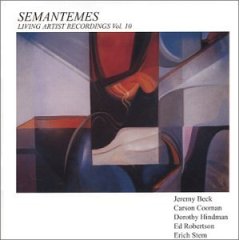 Living Artist Recordings – Vol. 10
ASIN: B00008J7NP
Distributed digitally wherever music is available
"Dorothy Hindman's Trembling for solo flute, consists of a wide diversity of gestures that makes a compelling case for the unaccompanied solo performance. On the whole, Ms. Hindman's exploration of the instrument is a showpiece experience for the performer and an engaging and refreshing one for the listener."
~John de Clef Piñeiro. "Voices Old and New from Vox Novus,"New Music Connoisseur, Vol. 11, No. 1, March 2003
Trembling for flute (1998) reveals its one unifying motive slowly and circumspectly over the course of the work. It conceals its true melody: a slow, lyrical line, with a high degree of fragmentation, ornaments, extreme dynamics, gestures and timbral distractions. In short, it trembles before revealing itself. It is not, however, a reluctant or introspective work; but rather a tantalizing and frenetic series of exhibitionist delays. The piece was written for flutist and dear friend Donald Ashworth at his request.